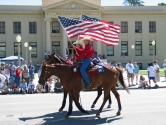 Located on scenic U.S. Highway 395, Independence sits under the eastern shadow of the Sierra Nevada Mountains in the beautiful Owens Valley.
Independence is on your way to or from Los Angeles, Mammoth Mt. Ski Area, Mono Lake and Reno.
Independence is within easy driving distance to visit Mt. Whitney, John Muir Wilderness, Bristlecone Pine Forest and Death Valley.
Local recreational opportunities abound including Fishing, Camping, Hiking, Back Road Touring, Photography and more.