Events Calendar: Father's Day Trout Fishing Derby, 2006 Trout Derby results, 2006 4K Fun Run Results and July 4th Parade and Celebration.
Other current events and activities are also listed.
Gulag:Soviet Forced Labor Camps and the Struggle For Freedom
February 17 to October 21, 2007
The exhibit will be on display at the Eastern California Museum. The exhibit features archival footage, full-scale recreations of prison camp cells, prisoner artwork, maps, historic photographs, and artifacts depicting daily camp life. This is the only west coast venue for this powerful exhibit.
View more information about the Gulag Exhibit
Obtain more information about the International Acclaimed Independence Fruitcake Festival.
Chamber of Commerce Information
Business Directory
Area Attractions: The historic Mt. Whitney State Fish Hatchery, Eastern California Museum, Manzanar National Historic Site, Back Road Touring for SUV's, and many more.
Activities: Fishing, Hiking, Camping and Rock Hounding
Area History
Lodging and Camping Information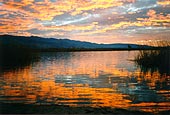 Make a visit to our Chamber of Commerce office and Information Center a top priority to receive free information from our knowledgeable staff and numerous brochures describing the area. You will find all you need to know about lodging and recreational activities at the Information Center.
Come and enjoy the cool summer evenings, the beautiful sunsets and the beauty of the snow-capped Sierra Nevada Mountains.
Enjoy our historic museum, a visit to Manzanar or just relax in one of our comfortable motels or bed and breakfast establishments.
For the more adventurous, you can camp or park your RV in one of the local campgrounds, most of which include a year-round running mountain stream.